Beginner Classes Enrolling Now! Kid's Karate in Lansing Teaches Discipline & Self Confidence!!
Get Started Today!
Kids Karate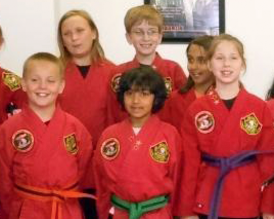 This Kid's Karate program builds self-esteem, teaches kids how to protect themselves, and gives kids the confidence and motivation to handle anything life dishes out.
Learn More

»
Kickboxing Fitness
This awesome 800-calorie-burning workout uses a combination of Judo, Brazilian Jiu-Jitsu, Muay Thai Kickboxing and Grappling to get you quickly into AMAZING shape.
Learn More

»
Mixed Martial Arts
Conveniently located in Okemos, here you'll become a well-rounded fighter, learning the BEST self defense techniques of Karate, Brazilian Jiu Jitsu, Muay Thai Kickboxing, Boxing, weapons, takedowns and grappling. You get a great "TOTAL BODY" workout that tones and strengthens EVERY part of your body.
Learn More

»
Experience the Best Karate School In Lansing!
See results in no time! We are conveniently located near Fowlerville, DeWitt, Laingsburg, Perry, Holt, Mason, Williamston, Haslett, Okemos, or Lansing, Michigan. If you want to get in shape and learn real Kids Karate, Kickboxing Fitness and Mixed Martial Arts then Mid-Michigan Academy of Martial Arts is the perfect place for you!